Site Updates
We are constantly improving our system to give you a great event management experience. Check out our recently added features.
You may suggest a feature here
May 14, 2019
Easily collect information for additional guests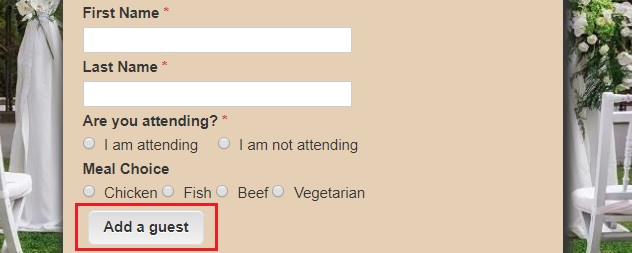 We have simplified adding additional guests to an RSVP. By simply clicking "Add a guest" an RSVP can have all the names of guest, and their answers to custom questions. See a demo Here.

This feature is automatically enabled for any events created after May 15th, 2019. If you would like for us to enable it for your exisiting event please send us a support request through the contact link at the top of the page./> By default, only first name and last name of your additional guests are collected. To collect custom questions as well select "Show custom questions to additional guests" from the Edit Event page.
April 30, 2019
RSVP responses can be exported to CSV
Premium Feature

You can now easily export RSVP responses to a CSV directly from your My RSVPs page. This button will appear near the top of the page.
Apr 23, 2019
Emails are no longer required for RSVPs
Guests and hosts can simply click "No email available" When submitting or updating an RSVP. This makes it easier if the email is not known at the time of submission or if the guest does not have one. The system will generate a placeholder email that can be edited by the host if needed.
April 11, 2019
Event hosts can receive notifications when an RSVP has been submitted
Premium Feature

Want to know when a new RSVP has arrived? Enable notifications to receive an email the moment a guest submits an RSVP. Event notifications can be enabled by editing your event, and enabling "Receive notifications of new/updated RSVPS by email" located beneath the event date and RSVP submission deadline.
Mar 1, 2019
New Short Response Questions
We have added 2 additional short response questions. You may now ask a total of 8 custom questions:
2 yes/no questions
4 short response
2 multiple choice questions